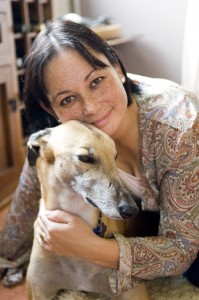 Greyhounds As Pets (GAP) is a registered charity established by Greyhound Racing New Zealand to find pet homes for retired racing greyhounds.
Retired greyhounds make great pets – they are intelligent, affectionate and lazy. They adapt to pet life with surprising ease, becoming a family favourite in no time.
There are greyhounds coming out of racing throughout the year. The GAP adoption programme steers them through the career change and helps them find a new home as a pet. We also provide advice and support to new owners.
Many owners become totally smitten with their greyhound and go on to become part of the GAP community, helping more hounds find homes and enjoying walks and social events.
Our team of Regional and Area Co-ordinators organise promotions to help spread the message, while our three kennel bases in the North and South Islands assess the dogs and match them to their new homes. The programme also has a valued team of foster carers who help teach the dogs about pet life.
The success of the programme relies on our team of willing volunteers. All help, whether large or small, is greatly appreciated and will help a greyhound somewhere find a loving family.
Read about how we prepare the dogs for pet life
Find out what's happening in your area