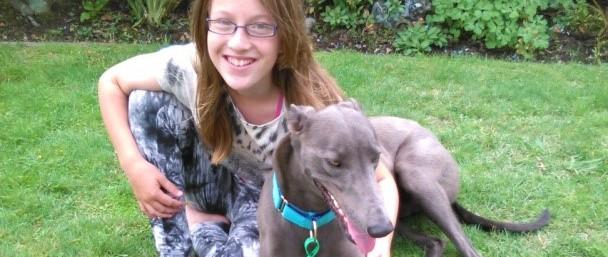 "Woof woof! I mean, Hi! My name's Jake and I'm a Greyhound. I'm a two year old, blue male. My family got me on the 31st of January, 2015. So, they've had me for over a year. The people reading this will either be: Thinking about adopting a greyhound, or have adopted one. Well, if you're thinking about adopting a greyhound, that's great! Not only do we make amazing pets, you're gonna help one of us. Cool, huh! I bet you've been thinking, would a greyhound be right for me? My lifestyle? My family? Would owning a greyhound be too stressful for me? Would I be able to get used to a greyhound? I have one thing to say to you: Think about us! It's hard for us, too. A new home takes getting used to. But we adapt pretty easily. How about you others, who own/have owned a greyhound? Have you stopped to consider us? Are you curious about what it's like for us? Well, whatever questions you have, look no further! I have written (with a little help) a story, about a year with my new family. (Of course, I found it a little hard to type with my paws, so my new sister, Aisha, helped me)!
The Decision Process.
The first step you take to get a greyhound is what I call, The Decision Process. That's when you decide to get a greyhound. I heard from my family, that The Decision Process was very big and important. Apparently my human sister had wanted a dog for years. My human mum had also wanted a greyhound for a while. My human brother€¦ he has autism, and used to be scared of dogs. But he gradually became better around dogs. He wasn't particularly interested in getting a hound like me! My human dad, he's more of a cat person. (He loves me now!) My human sister is also more of a cat person, but she still loves me lots. She says she loves me more than the others!  My dad said it wasn't possible for my family to get a dog, because of Aidan's (my new big bro) fear of dogs, but then he got better! My family also had a cat named Ginny, who was very scared of dogs. Once before our neighbours had people stay with them who brought their two dogs with them too. The dogs were fenced up, so they couldn't escape. But Ginny was so scared he hid under the house for the whole week! But then poor Ginny died, and they got a new cat, Sophie. (There's another much older cat, Sebastian or Sebby, who's 18, in the family! My family have had him for 17 and a half years). So then, over Christmas, my family made their decision, sealing my destiny. They would get a greyhound!
Application
After 'The Decision Process', we enter the next stage- Application! We contacted a few of the right people, and filled in a form, saying our circumstances.  Obviously, it's different for everyone. For my family, they had two cats. They had an autistic teenager, who is quite noisy sometimes, and gets excited and jumps around. So no nervous hound!
The Home Check
Now came the next part. The Home Check. This is when someone who owns a greyhound, and are experienced in home checks, comes and checks the house, and makes sure it's appropriate for a greyhound. That's a really good idea, if you ask me!  That means that no Greyhound would go to a home which would be bad for them. In The Home Check the visiting greyhound gets walked around the home and the family talks with the owner.
The Email
The Email is when you get an email from a lady called Annamarie, (or someone else, depending on you area. Annamarie owns the kennels in Hampton Downs). She owns a greyhound kennel! The Email says that she has found a greyhound that may fit your home. That means a greyhound that would fit in well with your lifestyle, you, and your family! So then, you make an appointment to go up to the Kennels, to meet the dog you potentially will take home! The Email could come fast, (my family were matched up with me after about a week! Speedy, huh?) or in a little while. It depends on when they find a greyhound suited to you.
The Kennels
This is where it gets exciting. I had no idea what was happening. I heard on 'The Howl' (that's the Greyhound gossip line!) that a family was coming along to get a dog! There were two dogs that could possibly get a new home. Us dogs had gotten wind that Willis, another dog there was a possibility, but might be a little timid so may not quite be as suitable. There was another dog, most likely the first choice, who might be picked. But no one knew which dog it was. Then, the shock came. Annamarie came, and took me out! Me!! I was the first choice! Naturally, I was excited. I sniffed these people. They smelled nice. Like friendly people. They also smelled very excited, with a hint of cat. I wagged my tail, and I was lead into a fenced area, so I could run. I saw some Boxer dogs at the other side of the fence. I barked the news to them.
"Hey, you guys, guess what!! I might get adopted!!€ I barked, wagging my tail.
"Good for you!€ one said
"Congratulations!" The other said.
I was so excited I forgot to tell them it might not happen. I saw some chickens on the other side of the fence. I showed my possible family my running, by running alongside the chickens. My family were given the chance to walk me. I was so happy! I got to sniff lots of smells, and apparently, nearly pulling my soon-to-be sister's arm off! I said I was sorry, and licked her. She laughed. I met some lamas, while the humans talked. The came to the decision, the best decision they've ever made - to take me home! I got taken to this room, and they picked a lead for me. It was red. I like red, but blue is definitely better. They picked a collar for me too. It was blue! A blue collar for a blue dog! The came the part I didn't like€¦ the muzzle. It was purple. The kennel owners there showed my family how to put the muzzle on me. I didn't like that. But then, we went outside, and there was a thing the humans call a car. When I was a puppy, I thought it was a monster, and it swallowed humans, and occasionally dogs! But I soon learned it wasn't a monster. It isn't even alive! So, there was a door at the back open. This is the 'Boot,' my special seat! I didn't know how to get up. I was lifted up. There was a soft, green blanket for me to lie on. They clipped me on with the tether, so I wouldn't escape. And then we drove to my new home! I was scared, and a little bit hot, but my family had all the windows open for me so air would get through and stopped to give me water along the way.
Settling In:
Some dogs settle in better than others. I had a bed with blankets in the office, but I wanted to be with my family so I wouldn't stay. In the end, I got to sleep in the lounge! I also wasn't allowed to sleep on the couch at first, but now I am!
Important Things That Happened To Me:
The first year goes different for everybody. For me, it had its ups and downs. Once, when I was walking, a dog ran across a road and bit me! I was a bit scared (pun intended!) but I was okay. My mum, who was with me, was more shaken then I was! I got to go on lots of walks with other ex-racer greyhounds. I get to go to some really cool places, and meet some great friends! I do fun things like run on the beach almost every morning, and at night! I sometimes go to the race course, and run with a few other greyhounds, just an informal, meet up with friends thing. I went to the Tauranga A&P show with some of my friends, and our gazebo got a lot of attention, I bet there will be some adoptions! I also go the local library and kids read to me! My Human mum works for the library, so this is good! I went to the big opening day for the Hairy Maclary statues, and I got a lot of attention! Apparently I look exactly like Bitzer Maloney, a blue greyhound in the Hairy Maclary stories.  Either way, the first year goes differently for every hound. But this is the story of my first year with my human family. I've enjoyed my year very much, and look forward to the years to come.
Jake