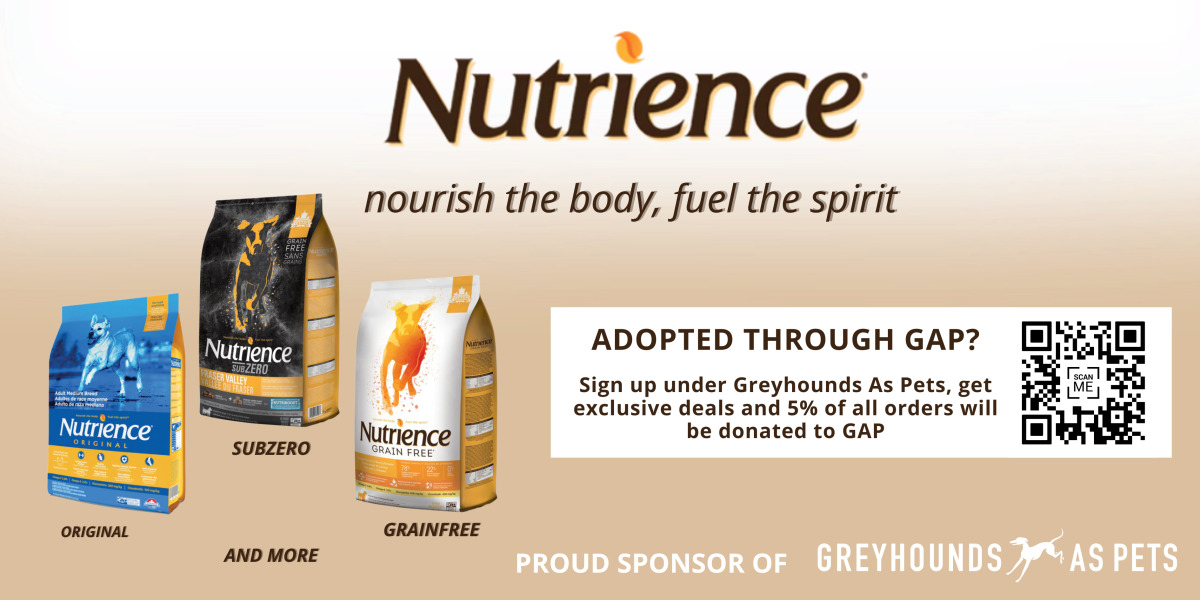 Nutrience is a proud sponsor of Greyhounds As Pets, supporting Greyhounds on their journey to find their forever homes.
Did you know we feed all our Greyhounds Nutrience through from kennels, to foster homes? All GAP adoptees, past and present, can sign up to Nutrience Club using their GAP Greyhound name and get exclusive deals, with 5% of all orders donated to GAP!
Give Nutrience a go!
A healthy lifestyle begins in the bowl and Nutrience is the perfect source of protein and nutrience for your Greyhound to live the best retired life! All Nutrience formulas are rich in animal protein with multiple sources of fresh, never frozen, animal ingredients which provide protein and essential amino acids.
When you feed Nutrience, you'll see the proof. Recipes abundant in meat for an unbeatable taste dogs love. Skin and coat condition so good, strangers stop to ask you what you feed! No fillers and increased digestibility result in smaller, firmer stools. Nutrience makes a noticeable difference inside and out!
Introduce Nutrience, with a 100% Money Back Guarentee!
Got a fussy Greyhound not taking to Nutrience?
Nutrience is so confident your pet will love the food, every bag is backed by their 100% Money Back Guarantee. Remember to always take your time when trying any new food. Mix a little of their new food in with your pet's old food at first. Over 1 to 2 weeks, increase their new food and decrease their old food a little more each day.

Have you discovered the benefits of Nutrience SubZero yet?
Nutrience SubZero combines the nutritional benefits of raw with the convenience of kibble, all in one easy-feed, complete & balanced recipe. No refrigeration required. Protein-rich kibble plus freeze-dried Nutriboost to deliver nutritional benefits and superior flavour. The formulations are prepared with fresh, never frozen sources of meat, poultry, wild-caught fish and real freeze-dried protein for a superior flavour that even the finickiest pets will crave.
Find out more about Nutrience here