Pippa (Hutiwai) is a Christmas hound. Adopted by her human dad (Hamish) just days after her second birthday, she was gifted to her human mum (Paula) a week later on Christmas day. In order for Pippa to be a surprise, there had to be a crafty plan in place to keep her existence secret. How did Hamish manage to adopt Pippa and keep her hidden away for a week? And how did the surprise go down on Christmas morning?
Paula had been hinting to Hamish for quite some time that she wanted to adopt a greyhound. They had talked about what they would need to do to prepare (like build a fence!) and why a greyhound would be a great fit for their lifestyle. Paula would regularly visit the Greyhounds as Pets (GAP) website and show pictures to Hamish of the hounds that were up for adoption. To help manifest the dream, in May 2020 Paula decided to change her phone background to a beautiful blue greyhound standing in some daffodils.
"The image made me determined to get a greyhound by spring. My birthday is in September and I told Hamish that I wanted a fence for my birthday, so that we could then get a greyhound and re-enact the photo."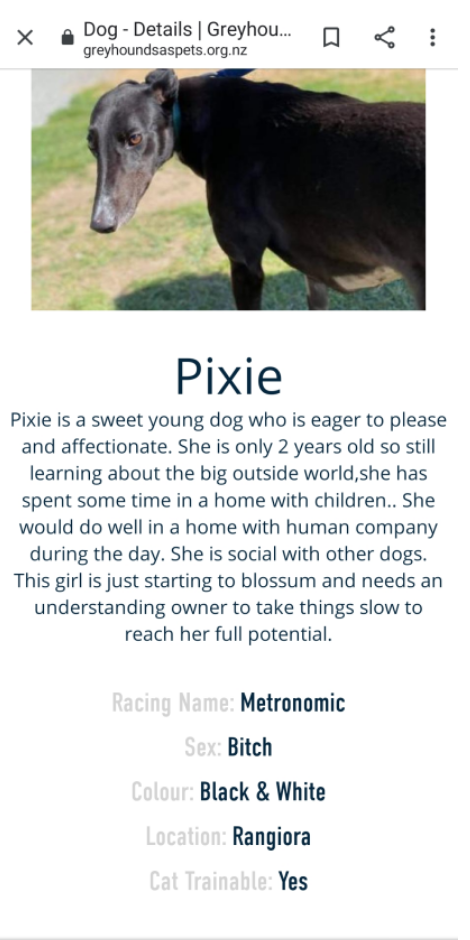 The screenshot of Pixie's ad on the GAP website
Spring came and went, daffodils too, and there still wasn't a fence! Paula did get a lovely necklace for her birthday though - the first piece of jewellery that Hamish had bought for her. When Hamish started asking what Paula wanted for Christmas, of course it was still a fence.
"Hamish started a building apprenticeship after lockdown, so I thought it would be a great project for him to practice his skills. I said that I would pay for all the materials if he would build the fence."
On 27 November, Paula thought she had found the hound that was for them! Pixie (Metronomic) – female, cat trainable, only 2 years old! Perfect J Hamish wasn't there at the time so Paula took a screenshot of the ad on her phone to show to him later.
"I can't remember why, but I never ended up showing Hamish the screenshot. The lead-up to Christmas is always a busy time and I guess it just slipped my mind. Hamish was doing his apprenticeship during the week, working at a butchers shop on Saturdays, and doing beekeeping in his free time, so we didn't have much time together."
Little did Paula know, but Hamish had decided that he was going to get her a greyhound for Christmas. He was keen to see three or four hounds, but one that he liked already had a home waiting, so it ended up just being two. On Friday 18 December, Hamish headed out to meet Rachel Foster from GAP and the two hounds – Pixie and Pippa.
"They were really similar. I took both of them for a lead. Neither of them looked at me much. I decided to adopt Pippa because she was younger. Pixie was 4 (although it said 2 in the ad) and cat trainable, and Pippa was 2 but not cat trainable. We don't actually have cats, so it didn't really matter."
It just so happened that Hamish's car was getting a WOF and he had taken Paula's car for the day. He covered the seats with towels to ensure that no tell-tale signs of a dog were left behind, then he took Pippa off to his parents' place where she would be kept in secret for the next week. Their place is fully fenced, so at this point it didn't matter that there still wasn't a fence at home. Hamish had a solution up his sleeve anyway.
"I'm always excited about Christmas, but I was extra-excited this time! I couldn't wait to give Paula her present. The next day I had to go into Christchurch to pick up another part of the present. I got my car out and attached the trailer. When Paula asked what I needed the trailer for, I said her present wouldn't fit in the car!"
When Hamish got back from Christchurch, he had to get Paula's help to lift the 70kg box off the trailer and put it under the Christmas tree. It was an awkward long rectangular shape and made a slight 'clang' as they put the box down, but Paula was completely clueless as to what might have been inside.
"I thought it might have been one of those garden swing seat things. But then 70kg is probably a bit heavy for one of them. I don't know. I had no idea what it was."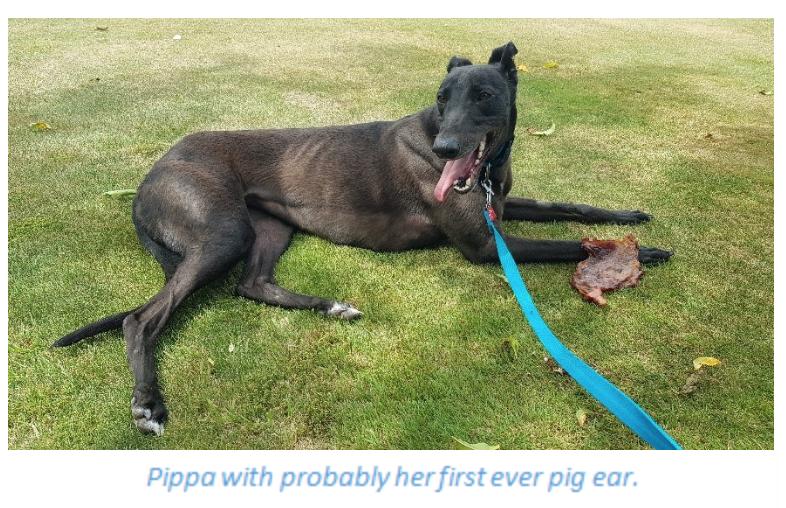 Over the next week, Hamish went to visit Pippa every day and she started warming up to him. After all, he did bring her tasty treats like pigs ears! Pippa had a canine companion at her temporary home, and they would spend time together running around the section or lazing in the sun. She started coming out of her shell and showing her personality by doing things like collecting empty bottles and placing them in a pile. Paula never suspected a thing.
"Because Hamish always has so much on, it wasn't out of the ordinary for him to be coming home a bit later than usual, especially with trying to get everything done before Christmas."
Hamish's next challenge was the delivery of the gift. How to get Pippa home and under the Christmas tree without Paula noticing. Greyhounds don't tend to bark much, and so far Pippa had proven to be a quiet hound, apart from whining at night. Fair enough, considering all the new things she had to deal with, and the unexpected cold & wet weather for the time of year! Again, Hamish had a cunning plan.

Temperatures were up and down throughout December and dropped quite low at the end of the month
"We were going to have Christmas lunch with Paula's family, and Christmas dinner with my family. I suggested that we have my parents around for Christmas breakfast too. Thankfully Paula was keen to do this and didn't need convincing."
Christmas morning arrived and was like any other Christmas morning with Hamish bouncing out of bed super-early and donning a Santa hat. He had placed several more gifts under the tree next to the big long box and kept saying to Paula that he was so excited to give her presents to her. Paula is used to not opening any presents until after breakfast, so as curious as she was, she didn't open anything. Then, not long before his parents were due to arrive for breakfast, Hamish told Paula that there was one present that he was extra-excited to give her and that he wanted her to have it now. He handed her a note with a string attached to it and told her to read the note, wait a bit, then follow the string. Hamish started unwinding the string and headed outside.
"I was thinking that he would be leading me on a wild goose chase through the yard and around the back into the garage or something. Anyway, I followed his instructions and after waiting a bit I started to follow the string."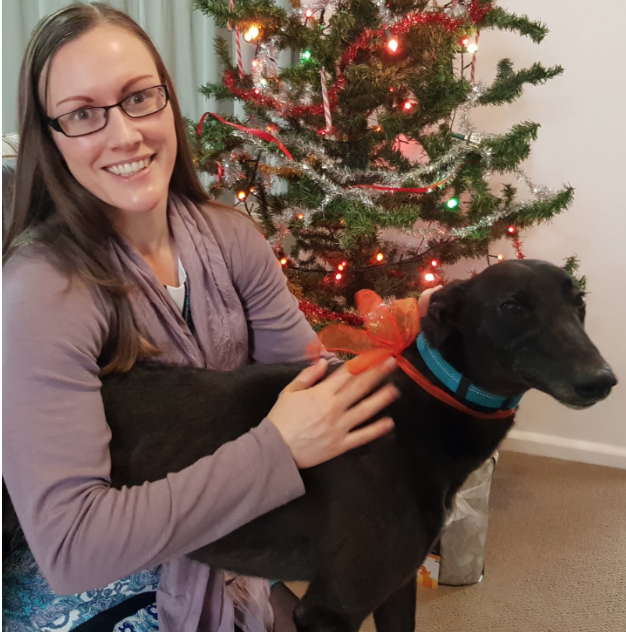 Paula with Pippa under the Christmas tree
Paula didn't get very far. When she slid the front door open, there was Hamish with Pippa! Following the string was merely a distraction so Hamish had time to go and get Pippa from his parents who had brought Pippa with them and were waiting down the road. Click here to watch the video to see Paula's reaction!
"I couldn't comprehend how Hamish had got a greyhound. I thought that there was no way we could get one because we still didn't have a fence. I was dumbfounded, saying 'How on earth?' and 'I never would have guessed'."
It's safe to say that it wasn't long before the fence was built so that Pippa could have complete freedom in the back yard. She spends most of her time out there during the day, and has her kennel and run to keep her cosy on cold and wet winter days. In summer she spent nights outside too, but now she is allowed inside at night and has several beds to choose from, including the couch!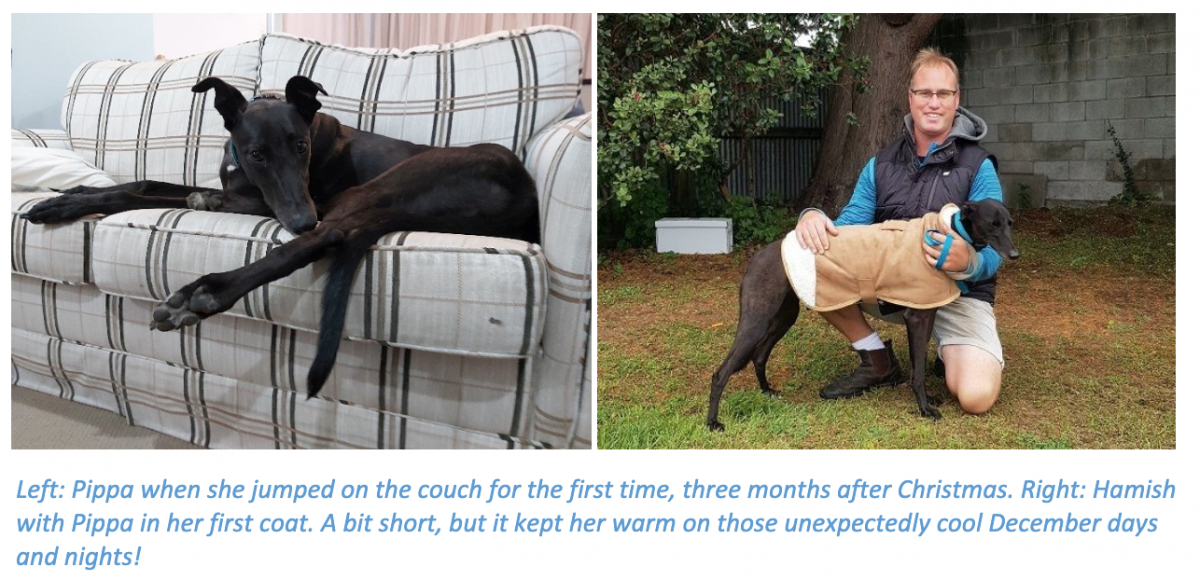 If you're wondering what the other gifts were, they were a 3m x 4m run (that 70kg big long box!), Pippa's GAP paperwork, her muzzle, and her food bowl. As for Pixie, it wasn't long before she found a home too.