Tye (Eye Spy Ty) is a name and face most GAP followers recognise. He's a gentle, sweet boy with an overbite smile that can melt any heart.
Tye came to us in August of 2022 and spent 7 months in foster with Bea, Matthew and foster brother Hugo. While living with his foster family, Tye learnt the ins and outs of being a pet, including finding the best sun spots to lay in and perfecting his cockroach pose.
Despite Tye's beautiful, goofy personality, some adopters understandably found it hard to look beyond Tye's 'baggage'. Tye had sustained a hock fracture, which ended his racing career, coupled with a subsequent diagnosis of Greyhound Retinopathy, which affects his vision. You wouldn't even know this, by the way he gallops and navigates his environment at his foster home though. In addition, Tye found it difficult to be his "best self" out in unfamiliar environments including Pat n Chats and adoption days. Lisa and Abbie, our Upper North Island Rehoming Team arranged meetings at his foster home where potential adopters could see his natural personality. We all knew that there was a special family out there for Tye, but we all just had to be patient!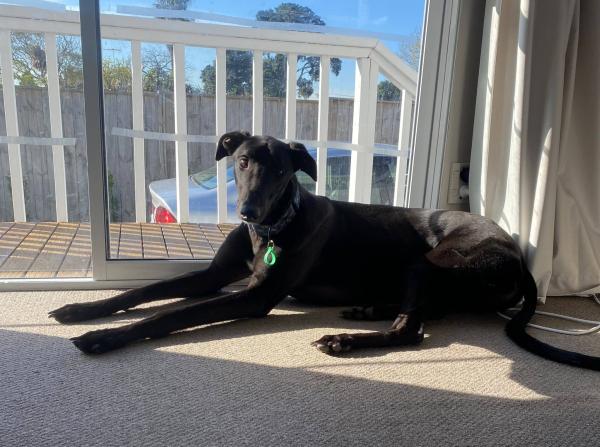 After a couple of meets which did not progress to adoptions, we received a new application from a family who already had a GAP hound. They had recently lost their beautiful lurcher girl and were looking to adopt another hound.
After speaking with Monique, it was obvious to us that this was a home where Tye would thrive. We discussed Tye's conditions, challenges and personality, and the family were not deterred. A meet was quickly arranged, and Tye brought his A-game, charming the family, coming in for cuddles and giving face kisses! We were so excited, and a subsequent meet was arranged between the dogs, which also went well!
We are so thrilled to say that Tye went to his forever home on 31 March, with the most amazing family, who were able to see the beautiful soul that is Tye. This could not have been done without the amazing work from our Upper North Island Rehoming Team, Lisa and Abbie, as well as Tye's patient and loving foster family. A huge thank you to Matt, Bea and Hugo for giving Tye the best introduction to pet life, and giving him the confidence to show his wonderful and quirky personality!
Tye has been with Monique and his new family for 2 weeks now and is settling in well.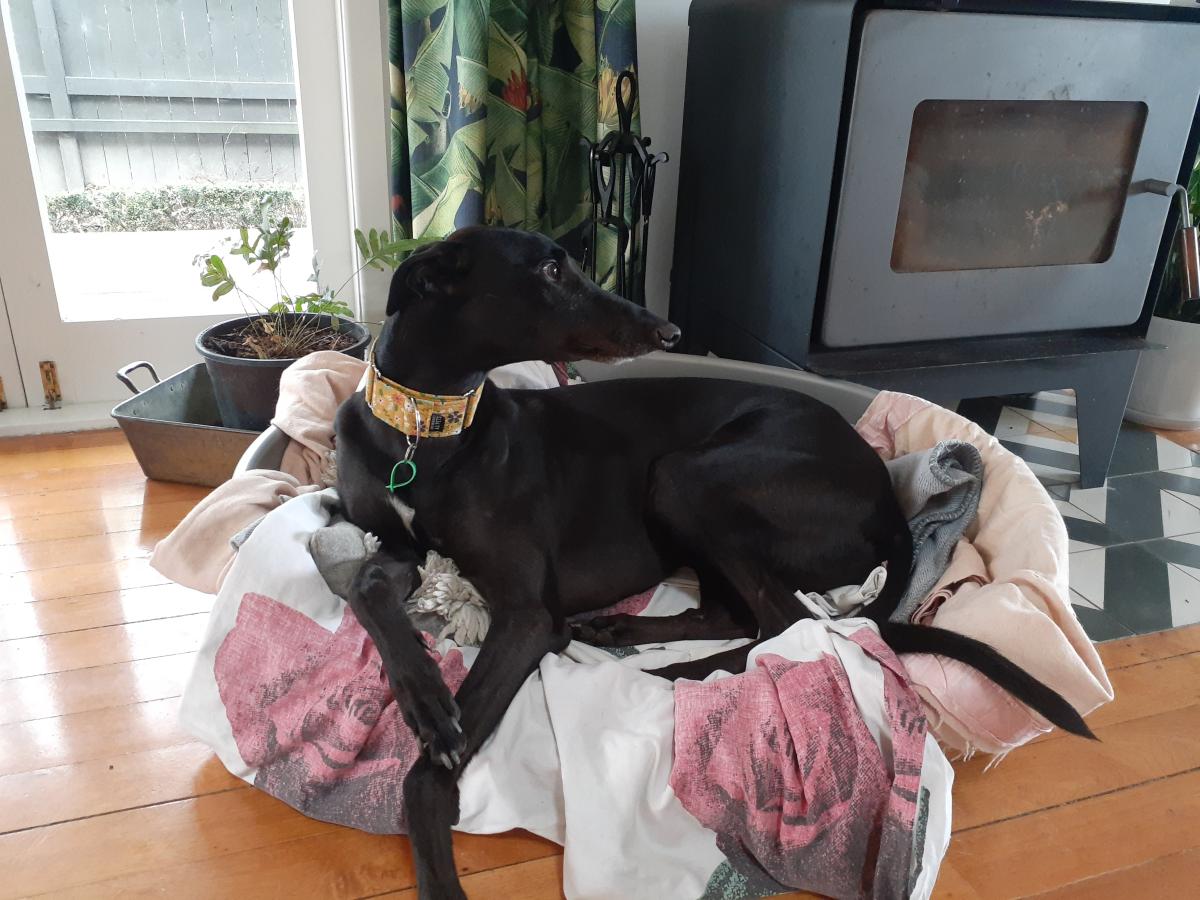 "He has been with us for a few weeks now and is settling beautifully. He's not above the odd act of thievery when the chance presents itself and has enjoyed a good portion of chocolate éclair and an egg sandwich as a result!
He greets us enthusiastically at the front door, potters about happily with Maggie in the garden of a sunny morning and lounges with us in the evenings. Although Tye is very enthusiastic about walks, the reality of suburban street-life - noisy buses, rubbish trucks and bicycles - takes some getting used to.
There is something very special about the first times that an animal greets you with happiness or reaches out for a pat. We are enjoying these moments with Tye, who is indeed a snuggly boy!"
Thank you to the various vets and specialists who provided Tye with his treatments, and to GRNZ for supplying a support package to the new adopting family to help assist with Tye's ongoing care.